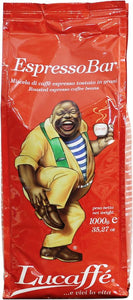 Espresso Bar 1 kg coffee beans
Lucaffe Espresso Bar is the typical espresso that you get at an Italian café. Espresso Bar is an intensive and balanced espresso with nice sweetness and hints of chocolate. The creamy and full-bodied coffee has a very rich crema and a long, pleasant aftertaste.
The coffee tastes great both as an espresso as well as in milk coffees, such as cappuccinos. The espresso coffee blend contains 60 % Arabica and 40 % Robusta.